Children's Book Club Options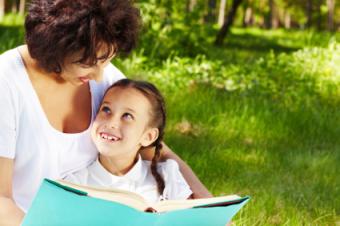 Participation in a children's book club is a wonderful way to encourage reading and learning. Some clubs are specific to certain genres or story types while others appeal to kids of certain ages. For example, books geared towards preschoolers may include board books or lift the flap books while books for early elementary kids might include early chapter books. No matter what a child's age or interests, there's sure to be a book club to meet her needs.
Scholastic Reading Club
Scholastic Reading Club, once known as Scholastic Book Club, has been around for over 90 years and is likely one of the best-known book clubs in the country. It offers books for children from pre-school through middle school. The books may be paperback or hardback and are often available in economical sets. Scholastic Reading Club also offers activity kits and other non-book related items that promote learning and make great gifts.
How It Works
Each month, children receive an age-appropriate flyer of handpicked titles (often related to the seasons or holidays) at school to review with parents. Books are typically offered at discount prices. Homeschool groups can also participate in the club.
Once they've identified which books to purchase, parents order the books online or through the child's teacher. Books are delivered directly to the child's classroom. Every book ordered earns the teacher points to use towards the purchase of books for the class or school library.
To help students meet the requirements of the new Common Core education standards, Scholastic has recently revised their monthly take home flyers to offer grade-specific books, making it easier to pick something for your child.
Highlights Puzzle Book Club
Offered by the incredibly popular Highlights children's magazine, this unique club offers fun, highly-interactive puzzle and game books. Books are offered by age group and puzzle type. Parents love the boredom-busting activities, and kids are excited about the puzzles. The magazines offer a wide variety of things to do - perfect for a sick day.
How It Works
Each puzzle book is 32 pages and two new books are mailed each month. An introductory offer of $5.49 plus $2.45 shipping includes two books and a tote bag; all subsequent shipments costs $5.49 per book, plus $2.45 shipping. Shipments can be stopped at anytime.
Highlights Puzzle Club: Offers mazes, hidden pictures and sticker activities. Parents may choose "Puzzlebuzz" for ages 4-7, or "Puzzlemania" for ages 7+.
Highlights Hidden Pictures Club: Offers challenging hidden picture and hide-and-seek type games. Choices include "Let's Play" for ages 3-6, or "Eagle Eye" for ages 6+.
Other puzzle-based themed clubs are available including Which Way USA, a geography themed club; Top Secret Adventures, in which kids follow clues to solve mysteries around the world, and Mathemania, which uses puzzles and games to help learn critical math skills.
The Lollipop Book Club
The Lollipop Book Club offers a touch of sweetness to children's literacy by adding a candy treat to every book package ordered. Reviewers love the high-quality books and great customer service.
How It Works
Each month, parents (or anyone who wants to give the gift of literacy) choose books to include in a book package that arrives in the club's signature red envelope. A personal message from the sender is included. Making this gift even more exciting is the whimsical lollipop attached to each book. For children with allergies, a nut, soy and gluten-free lollipop is offered.
There is a wide range of book packages available from one book to 12 books. The price of each package varies according to the number and type of books purchased. For example, a three book paperback package costs $42.00 while a three book hardback package costs $81.00.
Once a package is purchased, there is no obligation to buy anything else.
Early Moments Book Clubs
Early Moments features books about beloved Disney characters, books by Dr. Seuss and Little Einstein books. The club is geared towards those youngest pre-readers and earns high praises from Baby Center.
How It Works
Purchasing the welcome package for any of the clubs automatically enrolls you in the monthly club plan. No matter which club you choose, satisfaction is 100 percent guaranteed and, after your original purchase, there is no obligation to purchase additional books. You may also cancel your membership at any time.
Disney Wonderful World of Reading: Introductory offer includes four Disney's The Lion King and Planes books, an activity book and your choice of two additional books.Shipping is free on the introductory offer. You will subsequently receive a shipment of three more books every month for $4.99 per book plus shipping.
Dr. Seuss & His Friends: Welcome package includes two pre-selected Dr. Seuss books -- One Fish Two Fish Red Fish Blue Fish and Dr. Seuss' ABC, a rhyming card game, a puzzle with frame and a parent's guide for $5.95. Shipping on the welcome package is free. Each month after, you will receive two more Dr. Seuss books, a new set of rhyming cards, a new puzzle with frame and a parents guide for $14.97 plus $3.99 shipping.
Baby Einstein Playful Discoveries: Welcome packages includes three board books, one plush book, a set of discovery cards and a parent guide for $5.95. Shipping is free on your welcome package. After your welcome package, you will receive monthly a new set of three books with discovery cards and parent guide. Each book and card set costs $3.99 plus shipping.
Opening the Door to Traditional Book Reading
In this digital age, traditional books often take a backseat to smartphones, video games, computers and tablets. Kids are often exposed to the loud noises and over-stimulation of the digital devices that surround them. Enrolling your child in a book club not only offers the excitement of receiving a monthly package but consistently brings the wonderful world of traditional book reading into his or her life. It also helps foster much needed quiet moments and relaxation, opening the door for parental bonding and discussion.