Poetry is a lot more fun when it gives you a giggle. Share these humorous poems with your kids, and you'll find getting them to read poetry is no work at all.
Poems to Make Kids Chuckle
I Asked My Dad for an Elephant
I asked my dad for an elephant,
That I could play with every day.
I promised to clean and feed him,
But dad sternly said, "No way!"
So I asked my dad for a tiger,
With stripes and big sharp claws.
When I told him we could feed it my brother,
Dad just gave me the stink eye and paused.
So I asked my dad for a cobra,
That I could charm and watch him dance.
Dear old dad was losing his patience,
And he glared at me and said, "Not a chance!"
So I asked my dad for a kitten because
I could get one for free from Mrs. Stoudt.
So relieved was my dad that he jumped up and said
"Let's hurry, son, before she runs out!"
So here is the lesson to my story,
If you ever want a pet that bad,
Work your way from an elephant to a kitten,
It'll seem like the best idea to your dad.
Ode to the Hamster in My Bedroom
Smelly little hamster, running in your wheel,
Each night you make that darn contraption squeal.
Must you run to nowhere all night long?
I have to get up at the crack of dawn!
Zombie Lunch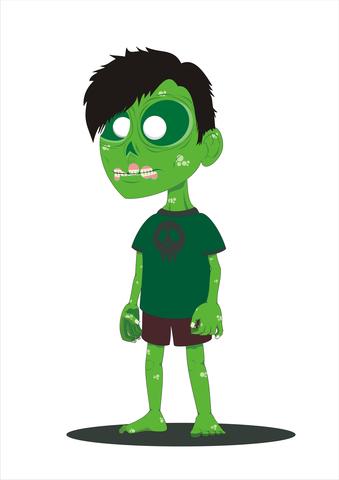 Zombie boy, why must you chase me?
Believe me, I'm really not that tasty.
If you must eat someone then try another.
Heck, you can eat my obnoxious little brother!
If you still feel like you're hungry,
You can eat my Uncle Mel.
He eats a lot of garlic,
So he should be seasoned well.
If old Uncle Mel doesn't
Quite hit the spot, you can
Snack on my next door neighbor
'Cause she yells at me a lot!
If you're looking for dessert,
Find someone else to munch.
I think I hear my mom calling,
Gotta run, can't stay for lunch!
There's Doggie Doo on My Shoe
There's doggie doo on my shoe.
Oh, what am I going to do?
My mom told me to scoop the yard,
But I didn't feel like working that hard.
I've tried and tried to scrape it off,
But the horrible smell makes me gag and cough.
Maybe I can give my brother a dime,
To wash it off with the hose this time.
Or maybe I'll just throw my shoe away,
And tell mom I lost it while at play.
Let's face it, that shoe will never be the same,
And, personally, I think my dog's to blame.
More Funny Poems for Kids to Read
Some of these poems are famous and some are not, but they all offer a little humor along with the rhymes.
Encourage Your Kids to Create Poems
Maybe the next Shel Silverstein is living right under your own roof. If your kids feel inspired by any of these poems, encourage them to take a crack at writing some of their own. Rhyming is always fun, but it's not really required. As long as the kids have fun being goofy and expressing themselves, they're bound to enjoy their own creative works.