List of Little Golden Books
Introduced in the 1940s, Little Golden Books made owning books affordable for children from all walks of life. These high-quality children's stories are beloved classics because so many people share fond memories of reading them. New books are published regularly adding to the already exhaustive list of titles.
The Originals
According to the official website, the first Little Golden Books were published in 1942 when each sold for 25 cents. Twelve books were published in the first year with only one, The Poky Little Puppy, being an original story.
The Poky Little Puppy by Janette Sebring Lowrey - Named the best selling children's book of all time, this classic story is about some naughty puppies who head out to explore the world, despite their mother's warnings. When they return home each day, the puppies are denied dessert. However, the Poky Little Puppy always makes it home last which is sometimes good for him and sometimes not.
Three Little Kittens illustrated by Masha - An adaptation of a classic nursery rhyme, the tale is about three kittens who lose their mittens, get them dirty and wash them, all on their journey to eat some pie.
Bedtime Stories illustrated by Gustaf Tenggren - Three classic tales about Little Red Riding Hood, The Gingerbread Man and Chicken Little take center stage in this collection of short stories.
The Alphabet A-Z illustrated by Vivian Leah Blake - A rhyming book featuring all the letters of the alphabet and common items that start with each letter.
Mother Goose by Phyllis Fraser - A collection of beloved Mother Goose nursery rhymes like Peter Pumpkin Eater and Old King Cole.
Prayers for Children by Mary Reed - Collection of short, simple prayers kids can recite and memorize.
The Little Red Hen Illustrated by J.P. Miller - Based on the folk tale, a hen needs help planting, growing and harvesting her wheat, but the other animals won't help. When she makes bread from the wheat, everyone wants to help eat it.
Nursery Songs Arranged by Leah Gale - A collection of popular children's songs like Farmer in the Dell and Mulberry Bush.
The Golden Book of Fairy Tales illustrated by Adrienne Segur - A collection of common fairy tales for children including Jack and the Beanstalk.
Baby's Book illustrated by Bob Smith - Take a look at some of the familiar items Baby sees around the house.
The Animals of Farmer Jones by Leah Gale - Hungry farm animals are looking for their farmer to come feed them.
This Little Piggy - Features the counting rhyme "This little piggy went to market... "
Popular Titles From the 1940s
In the early publication days, the books focused on popular fairy tales, folk tales and other stories with simple morals.
The Lively Little Rabbit (1943) by Mary Reed - A weasel makes its way into the rabbit hole and the little rabbit, with some help from friends, finds a creative way to scare the weasel away. The book is considered a vintage collectible.
Through the Picture Frame (1944) Adapted by Robert Edmunds - The first title from the partnership with Walt Disney, this is a retelling of the Hans Christian Andersen fairy tale Ole Lukoie about a dream god or sandman who gives dreams to children.
Tootle (1945) by Gertrude Crampton - The story follows a little train who gets easily distracted from his goals. According to Publisher's Weekly, as of 2001, this was number three on the list of best selling children's books of all time.
Scuffy the Tugboat (1946) by Gertrude Crampton - A little toy boat doesn't want to live in a toy store, so he heads out into the world to find where he belongs. Readers, ages two to five, love the adventure and sentimentality in this favorite listed as a generational classic on the official website.
Saggy Baggy Elephant (1947) by Byron and Katherine Jackson - Some teasing from another animal leaves Sooki the elephant feeling self-conscious. When he meets other animals with features similar to his, he learns to love himself. This book is the seventh most sold children's book of all time according to data from Publisher's Weekly.
Little Black Sambo (1948) by Helen Bannerman - A story about a little Indian boy who encounters some vain tigers. He gives the tigers all of his clothing in exchange for their promise not to eat him. The tigers fight with each other and the boy prospers from their fighting. The story would later be at the center of a racial controversy and even become banned in many places.
1950s Favorites
In this decade, Little Golden Books continue on their original mission to bring quality books to every child. Books were often found near the checkout of stores to entice kids and parents to buy.
I Can Fly (1950) by Ruth Krauss - This fun, rhyming text features a little girl who does everything her pretend animals can.
Tawny Scrawny Lion (1952) by Kathryn Jackson - This book explores the days of the week and how one family of rabbits convinced a carnivorous lion to eat carrot stew instead. It is listed as number 117 on the Publisher's Weekly best-selling list.
The Little Red Caboose (1952) by Marian Potter - A Parent Co. Top 10 Most Beloved Little Golden Book, this is the simple story of a caboose who wants to be a leader like the engine until he discovers his unique strengths.
Animal Friends (1953) by Jane Werner Watson - A tale about how animals live and what makes a home, this is a popular read according to Steve Santi's site.
5 Pennies to Spend (1955) by Miriam Young - A little boy has five pennies to spend for himself, but some of his friends want to buy things too. The book is listed as a popular title by the expert collector, Steve Santi.
A Child's Garden of Verses (1957) by Robert Louis Stevenson - This popular title includes original poetry about childhood through nature-inspired explanations.
Popular Books in the 1960s
During the mid to late 1950s the television became a household staple. This change in entertainment delivery contributed to the introduction of books based on popular TV characters.
Baby Listens (1960) by Esther Wilkin - A little baby hears different sounds around the house.
Goodnight, Little Bear (1961) by Patricia Scarry - A fun mystery for bedtime when Father Bear can't find Little Bear as he looks around the house. The author was married to acclaimed children's author/illustrator Richard Scarry.
Huckleberry Hound and His Friends (1960) by Pat Cherr - Featuring the popular television show dog, the story is about why Huckleberry is angry with his friends following a day of impromptu meetings and activities. The Little Golden Books official website lists this title in their history timeline.
The Flintstones (1961) by Mel Crawford - Meet a cave family and their new pet, who may be more than the family can handle. The official website notes this as a popular title of the time period.
Good Little, Bad Little Girl (1965) by Esther Wilkin - Follow the activities of a good little girl and a bad little girl, who just happen to be the same person.
Hush, Hush, It's Sleepy Time (1968) by Peggy Parish - Take a look at how different animals get ready for bed.
Favorites From the 1970s
In addition to popular TV characters, popular toys make their way into these books as well.
Charlie (1970) by Diane Fox Downs - Follow the journey of a little alley cat who decides to look and work for a better life.
Rags (1970) by Patricia Scarry - Getting a new dog is an adventure, especially for Mr. and Mrs. Kalabany in this fun pet story.
The Monster at the End of This Book (1971) by Jon Stone - This is the only Little Golden Book appearing on the current Top 100 Picture Books of All Time list by the School Library Journal. Sesame Street character Grover is worried because he heard there is a monster at the end of the book so he tries to discourage readers from turning the pages.
The Jolly Barnyard (1973) by Annie North Bedford - The animals are trying to celebrate Farmer Brown's birthday in this Top 3 Most Beloved Little Golden Books says Parent Co.
Barbie (1974) - The first published book featuring the popular doll, this story follows flight attendant Barbie on her birthday.
Popular Titles From the 1980s
During this decade readers see a good mix or moral stories and those featuring favorite characters. You'll find that many of these titles are out of stock or listed at the most expensive price because of their popularity or rarity.
The Store-Bought Doll (1983) by Lois Meyer- A little girl gets a new doll from the store to replace her homemade one, but she discovers the old one might actually be better.
The Friendly Beasts (1983) - A poem for Christmas about the relationship between animals and the baby Jesus.
101 Dalmatians (1985) by Dodie Smith - When two Dalmatians set out to take back their babies from an evil villain, they find more puppies than they ever imagined.
Beach Day (1988) by Fran Manushkin - Follow one little girl's journey as she explores a beach.
Mickey Mouse Heads for the Sky (1987) - Mickey Mouse loves learning to fly, but does he love it too much?
Bugs Bunny and the Health Hog (1986) by Teddy Slater - Bugs Bunny convinces Porky Pig to work out with him, but soon Porky is working out more than Bugs. So, Bugs plays some tricks to get his friend back to their old ways.
1990s Favorites
Movie, television, and toy characters take center stage in books from this decade. Collaborations with major companies with children's brands are now a staple of the Little Golden Book's appeal.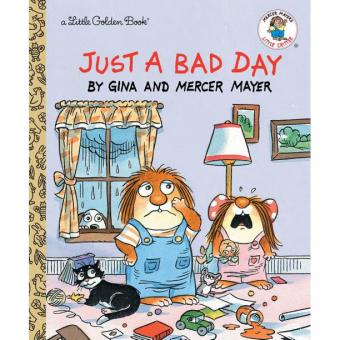 The Little Mermaid: Ariel's Underwater Adventure (1990) by Michael Teitelbaum - Meet the sea princess who wants to see what it's like to live on land with the humans as she fights evil and falls in love. One of many Disney princess books based on a movie, this item is permanently out of stock at Children's Classics.
Eeyore, Be Happy (1991) by Don Ferguson - Can Winnie the Pooh and friends find a way to make Eeyore not so glum? This classic Pooh story hit #53 on the Goodreads Best Ever Little Golden Books list voted on by readers.
Disney's Darkwing Duck: The Silly Canine Caper (1992) by Justine Korman Fontes - The popular cartoon superhero and his sidekick seek to solve the mystery of why agents aren't completing their missions. Goodreads voters referenced above voted this as #65 on the list of the best Little Golden Books.
Walt Disney's The Sorcerer's Apprentice (1994) by Don Ferguson - Inspired by a scene from the movie Fantasia, Mickey is learning magic and tries to use it on his own without heading his teacher's advice. Goodreads voters name this classic as #21 on the best list mentioned earlier.
Just a Bad Day (1993) by Gina and Mercer Mayer - Little Critter is a popular character in children's fiction In this story he can't catch a break as nothing seems to go as planned. See if he can turn a bad day into a good one.
Pokemon: Mewtwo Strikes Back (1999) by Justine and Ron Fontes - This story is based on the first Pokemon movie where Ash and his friends must save the world from the evil villain Mewtwo. The popular franchise of Pokemon joins the list of epic partnerships with Little Golden Books.
Early 2000s Popular Titles
As the books continue into another decade, some old favorites are reissued and box sets are created with favorite books from specific themes.
Barbie, Rapunzel (2001) by Diane Muldrow - Based on the popular fairy tale, the illustrations feature actual Barbie dolls in different poses as opposed to cartoon drawings.
How the Turtle Got Its Shell (2001) by Justine and Ron Fontes - Learn about turtles with brief facts and legends from several cultures. The title is permanently out of stock at Children's Classices, mentioned above.
Mister Dog (2003) by Margaret Wise Brown - Meet Crispin's Crispian, a dog who belongs to himself as he discovers a little boy who also belongs to himself. The author is an acclaimed children's writer with over 100 books written before her death.
Disney The Lion King (2003) - by Justine Korman - A storybook retelling of the children's movie of the same name that follows lion Cub Simba and he learns how the world works. The Disney Classics Box Set includes this as one of the five selected stories considered "beloved."
The Boy and the Tigers (2004) by Helen Bannerman - A retelling of the classic Little Black Sambo features new names and character descriptions in an attempt to make the story less offensive to other cultures and ethnicities. As reference earlier with the original title, this story has been at the center of historical controversy on race relations.
Paddington at the Zoo (2010) by Michael Bond - The popular bear character, Paddington, heads to the zoo with his favorite marmalade sandwiches in tow. But, he may not be the only one who loves those sandwiches.
Recently Published Favorites
Little Golden Books celebrate 75 years of publication in 2017 and continue seeking partnerships with new character brands while maintaining an emphasis on important lessons for kids.
Star Wars Little Golden Book Library - Published in 2015 this set of six books, each featuring the story from one of the original six Star Wars movies and a themed gold spine, is the first appearance of the popular franchise in Little Golden Book form. The title is featured on the Little Golden Books official website historical timeline mentioned earlier.
DreamWorks How to Train Your Dragon (2017) by Devra Newberger Speregen -Based on the movie of the same name this retelling shares how Hiccup meets his best friend and dragon, Toothless. DreamWorks Little Golden Book Library includes this title as one of five favorites from the movie giant.
Manners - Released in 2017, this never-before-published story by the beloved author, Margaret Wise Brown, of classics like Goodnight Moon, teaches basic manners for kids using funny opposites.
Upcoming Releases
Publisher Penguin Random House shares upcoming releases of Little Golden Books.
Branch's Bunker Birthday (January) by David Lewman - Troll's movie character, Branch's, friends are throwing him a birthday party whether he wants one or not.
Disney Princess Babysitter Stories (January) - Features five stories of your favorite Disney princesses as baby sitters.
Jurassic Park (February) by Arie Kaplan - An age-appropriate storybook version of the Steven Spielberg film about a man who brings dinosaurs back to life in an amusement park.
A Comprehensive List
Unfortunately, finding a complete list of Little Golden Books online is difficult because the collection now includes more than 1,200 unique titles. However, the Little Golden Book Collector website includes an alphabetical listing of 1,230 Little Golden Books that was compiled in 2013. Fandom also offers an alphabetical listing of Little Golden Book titles contributed by fans and collectors on an ongoing basis.
If you want to collect Little Golden Books, pick up a copy of Warman's Little Golden Books: Identification and Price Guide by Steve Santi. This guide offers tips on assessing the value of a particular book and information about many of the most prized Little Golden Book titles. For a comprehensive history of the books, check out Golden Legacy: The Story of Golden Books by Leonard Marcus.
Classic Books for Kids
Little Golden Books revolutionized the accessibility of books for kids by offering quality stories at affordable prices. For over 75 years these iconic books have delighted readers of all ages.