Personalized Children's Books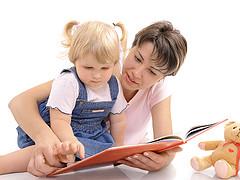 Personalized books are pre-written stories that allow varying degrees of personalization. Common additions include a child's name, photo, friends or family. Some books tell the story of a child's life, while others make the child the star of a wild adventure. Still others let kids step into a story with their favorite characters .Kids of all ages love seeing their names in print, and a personalized book just might motivate a reluctant reader.
Personalized Books for Toddlers
Even infants and toddlers can benefit from personalized books. Many companies offer customizable board books in popular characters, such as Barney, nursery rhymes, and the Sesame Street gang. These books are constructed of strong cardboard, so they can withstand abuse by little hands. They also typically feature larger letters and brighter colors. While toddlers cannot yet read, they can start identifying letters, isolated words, and their own names. Some companies offering personalized board books are:
My Create-a-Book offers several varieties of personalized books. One especially popular with toddlers is Picture Me Photo Memory Books. These books add the child's picture to existing stories of everyday events.
The Kid's Window offers personalized books for kids of all ages, including toddlers and preschoolers. In addition to books, this UK-based company also offers personalized beach towels, clothing, bedroom decor, and furniture.
Books for Children
School-aged kids have even more options for personalized stories. These books generally offer more complex story lines and greater opportunities for personalization. Companies offer customizable books for children include:
Personally Yours Books uses a laser printer for a cleaner, crisper look. Books feature well-loved characters and popular story lines.
Put Me in the Story offers personalized story books for special occasions, such as birthdays, graduation, new sibling, and the first day of school.
For Tweens and Teens
There are even full-length customizable books available for tweens and teens. These books generally have much more involved plots and feature more characters. These books usually offer a bit less in the way of personalization, since the stories are much longer. Some companies offering books for preteens and teens include:
Read and Sing My Name has a teen division that offers full-length novels for kids aged 6 to 12. Each book offers 19 characteristics to personalize, including name, gender, friends' names, appearance, and location.
Customized Classics makes your child want to read the classics! The company recreates all of your favorite classics with a very modern twist. Alice's Adventures in Wonderland becomes Betsy's Adventures in Wonderland. Romeo and Juliet becomes Sam and Misty. With these unique classics, your child and her friends become the stars of the book. The cover can even be personalized with her name and photo.