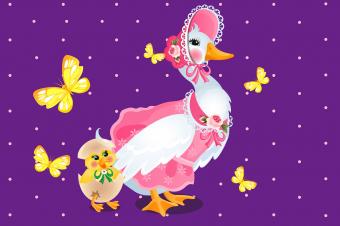 You probably remember a few characters from your favorite books with great fondness. Some characters seem to have been around forever while others are part of a new "classics" wave. From good guys to villains to brave princesses, kids tend to want to read about their characters over and over again.
Classics
These characters are classic; it's possible your parents read about them when they were little.
Mother Goose: Mother Goose is a unique character that serves as a fictional author of nursery rhymes and fairy tales. She does appear in one of the nursery rhymes in the book Mother Goose Nursery Rhymes. She is either illustrated as an older woman with a shawl and long dress or as a goose with a shawl. She appears in multiple books, including, The Complete Mother Goose and Tales of Brother Goose.
Peter Rabbit: Peter Rabbit is a beloved character from a series of animal books by children's author Beatrix Potter. Peter is curious and a bit disobedient, which gets him into trouble sometimes. He made his first appearance in The Tale of Peter Rabbit in 1902. Other characters in the series include his sisters Flopsy, Mopsy, and Cotton-tail.

Winnie the Pooh

Winnie-the-Pooh: A. A. Milne gave life to the character Winnie-the-Pooh in his 1926 book, Winnie-the-Pooh. The book was a collection of stories about a lovable teddy bear who enjoys eating honey and lives in the 100-Acre Wood. Other characters in the series include his friends Piglet, Eeyore, Tigger, Kanga, and Roo. Christopher Robin is his owner and the narrator of the stories and is a human boy.
Babar: Babar the Elephant is French, first arriving in 1931 when author Jean de Brunhoff published Histoire de Babar. The book was released in English in 1933. Babar is unique among his animal kingdom. When a hunter kills his mother, he flees to the big city and lives among humans. Because he has unique knowledge, the other elephants see him as a leader and appoint him king.
Puss in Boots: If you asked a child who Puss in Boots is, the likely answer would be the cute and big-eyed cat in Shrek. However, the character of Puss in Boots dates back to the end of the 1600s. The character is from a European fairy tale and even appears in Mother Goose tales. Puss in Boots is a cat that uses trickery to gain fame, fortune, and what he wants.
Curious George: Curious George is a monkey that lets his curiosity get the best of him. He first appeared in a story called, Cecily G. and the Nine Monkeys by Hans Augusto Rey and Margret Ray. When the books were originally published in France circa 1939, George was named Fifi. However, Fifi got a new monicker when the books were translated, and he was forevermore known as George. George is from Africa and comes home to live with a man in a yellow hat. He is interested in everything which can lead to trouble.
Raggedy Ann and Andy: Raggedy Ann is unique in that she was created as a doll first and then introduced to the public in a series of stories around 1918 written by John Gruelle. The books follow the adventures of Ann, and her brother Andy, who were found in an attic and are brought down to be played with again.
Newer Favorites
Perhaps they haven't been around for very long, but you can rest assure that they will be around for years to come. These newer storybook characters have found a way in the hearts of a generation.
The Cat in the Hat

The Cat in the Hat: This is the main character from a Dr. Seuss book by the same title, published in 1957. The story is about a cat who comes to visit on a day when two children are stuck inside. His crazy antics are quite memorable as is his red and white striped hat. The Cat in the Hat knows lots of tricks and his friends, Thing One and Thing Two, help him show them off.
The Grinch: The Grinch also comes from a Dr. Seuss story. The character was first seen by children in a story called How the Grinch Stole Christmas, which was published in 1957. The Grinch is grumpy and lacking in holiday spirit because his heart is three sizes too small. However, by the end of the book, his heart has growth and so has his Christmas spirit.
Corduroy Bear: In 1968, Don Freeman wrote a children's book titled, Corduroy about this lovable bear. The bear lives on a shelf of toys in a store. He can't seem to find a home because a button is missing from his corduroy overalls. He sets out to find the button and goes on an adventure.
Olivia Pig: Olivia the pig is from a series of children's books by author Ian Falconer. Falconer's first book in the Olivia series was published in 2000 and was titled, Olivia. Olivia likes to role play she is in different professions and such and through that, she teaches kids about being kind, honest, and having good values.
Little Critter

Little Critter: Little Critter is a character created by Mercer Mayer. Little critter has a lot of characteristics of a sweet young boy, but he is an undefined "critter." However, he looks a bit like a porcupine or a ground hog. Little Critter was first seen in the book, Just for You published in 1975. Little Critter goes on adventures, such as a first visit to a dentist, in an effort to make kids feel more comfortable in the same activities.
Franklin: The character of Franklin appears in the Canadian books, Franklin and Friends. The first book was published in 1986 in Toronto and was called, Franklin in the Dark by Brenda Clark. The series has been animated for television.
Eloise: The character of Eloise is a young girl who lives at the very top of the Plaza Hotel in New York City. You can imagine some of the interesting things Eloise sees. The books were originally written in the 1950s by Kay Thompson. Miss Thompson is deceased, but some of the tales have since been adapted into movies.

Madeline

Madeline: Madeline was created by Ludwig Bemelmans. Bemelmans wrote six Madeline books, the first one published in 1939. While Madeline was popular in her own right, the story of this precocious young girl who lived in a Catholic orphanage in Paris was made a household name by both a television show and a movie.
Fancy Nancy: Fancy Nancy is a girl's delight with her sparkly shoes, hats, and anything else you can think of. Written by Jane O'Connor and illustrated by Robin Preiss Glasser, Nancy is a little girl that loves all things fancy. Boa feathers, hats, and sparkles - if it's fancy, Nancy has got to have it. The books, originally published in 2005, stayed on the New York Time's Bestseller list for 100 weeks, giving rise to a generation of little girls who love the character.
Memorable Characters
The most memorable storybook characters are ones who are fully developed. They may be good and brave, or they may be nasty and villainous. Some characters are only in one book or short story, while others are present throughout an entire series. Parents may be delighted to find their children reading about the same characters they read about as kids, but with the wide variety of children's books available, your child is sure to find some new characters she loves just as much.