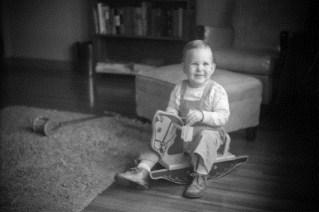 Reading toddler books from 1950s is a nostalgic way to connect with children and grandchildren with your own favorite books from childhood.
Vintage Children's Books
While the children's bookstore or library section is ever-expanding with quality literature, some parents want to introduce their youngsters to good books from the past. A 1950s toddler story is a great way to get kids interested in reading.
Appeal of 1950s Stories
Stories from the 1950s have a different feel, look and even language than those written after this era. The picture books are often simpler, with images that look hand drawn or even painted. Stories reflect innocence in the world that is not always found in children's literature today. The books are excellent supplements to today's popular books.
Find 1950s Children's Books
Finding vintage books to read is sometimes difficult. While some popular stories continue to be published even today, not all of them are still available.
One of the best places to start is with your own parents and grandparents. Ask if you can look through boxes in their attics, basements and garages to see what books they still have for children that were published in the 1950s. Libraries also have copies of books from decades past, but their condition may not be the best.
Online book sellers and auctioneers is another place to find older books. Secondhand bookstores might carry a few titles, and searching out garage sales is another great way to find some excellent reading choices.
Popular Toddler Books from 1950s
Few children's authors can compete with the famous Dr. Seuss, and one of his most famous books, The Cat In The Hat, was originally published in the 1950s. Make sure this fabulous rhyming tale of a cat and the children he visits is on your child's bookshelf.
Another famous author, Margaret Wise Brown, published several popular books perfect for toddlers in the 1950s. Big Red Barn is about the day in the life of the animals that live on a farmyard. The book entitled Home for a Bunny was also published in the 1950s by Golden Books.
Many people are familiar with Golden Books, which has been publishing classic tales for over 65 years. Look for one of their familiar, favorite titles when you want to find a great toddler book from the 1950s.
Many of the original books published in the 1950s are no longer available for sale or are in poor condition. Therefore, publishers have released new versions, often with updated color, for sale today. More great toddler books from 1950s include:
---
Stories and toddler books from the 1950s are a great way to build a young child's library. Add some classic tales that you remember from your childhood, along with books that are popular today. Save old editions of books in a dry, dark place to pass on from one generation to the next.