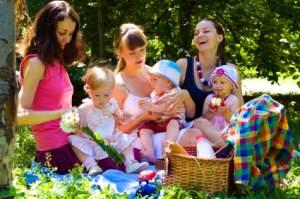 It is quite easy to find infant and toddler books about picnics. Picnics seem to be a universal theme in books for very young children. A meal in the fresh air has broad appeal. Favorite television and movie characters go to picnics in picture books, as do animals of all kinds.
Infant and Toddler Books about Picnics
Picture books about picnics range from board books to advanced picture books that can be read aloud to an infant or toddler. Books about picnics are good tools for helping babies and toddlers identify and name common objects, including foods, dishes and cutlery. These books also lend themselves to the learning of colors, shapes and counting skills. Even very young babies can point to familiar objects in a picture book about a picnic.
Picnic Books about Popular Characters
Many infant and toddler books about picnics feature characters from television or characters from popular book series. Some of these books follow:
Picnic Books about Animals
Animal characters take on human characteristics and go on picnics. Your infant or toddler can join animal friends on picnics in these books:
Picnic - a family of mice sets out on picnic in their red pick-up truck, losing Little Bitty along the way. Of course, the book ends with a happy family reunion.
We're Going on a Picnic - Hen, Goose, and Duck search for the best spot for a picnic. These friends feed other animals as food falls out of their basket and is replaced.
Teddy Bears' Picnic - a lively interpretation of the familiar song. Multiple bear families arrive at the picnic for food and games.
Ants at the Picnic: Counting by Tens - a counting book in which ants carry off food from a picnic.
Bunnies' Picnic - when the bunnies' vegetable stew spills, they go out to gather more vegetables and end up making a salad for an outdoor picnic.
Learning Activities with Picnic Books
Infant and toddler books about picnics offer many opportunities for learning simple concepts, identifying shapes, colors, and animals, and building basic vocabulary. Some things you can do to use books about picnics as learning tools for your infant or toddler include:
Ask your baby to point to foods in the picnic. Ask a toddler to name the food items.
Ask your toddler to help you plan a picnic. Make a simple picnic lunch and take it to the park, or have an indoor picnic on a rainy day.
Look at the food the characters in the book take on their picnic. Ask your child what he or she likes. Ask if the characters are eating healthful foods.
Cut out pictures of foods you want to take on a pretend picnic, and with your child, paste them in your own "picnic book."
Picnics as a Universal Theme
The universal theme of sharing an outdoor meal with friends means that you can choose from many picture books to read and share with your infant or toddler. Infant and toddler books about picnics give many opportunities for dialogue with your child and opportunities for learning about healthful food, social outings, and sharing.