Kids who love playing and watching football will enjoy these books when football season is over. Help your future athlete keep their head in the game by suggesting these fun and informative titles.
Fiction Titles
Books with relatable themes and characters make easy reads for kids of all ages. Since football is one of America's favorite pastimes, there are sure to be plenty of kids relating to these books.
Goodnight Football
This rhyming picture book is written by Michael Dahl and illustrated by Christina E. Forshay. Published in 2014 Goodnight Football gives the youngest fans a story about watching a live football game with family, then dreaming about it when it's all over. Capstone Press sells a hardcover copy of this 32-page book for under $20. This exciting and sentimental story is the top-selling children's book about football on Amazon. It also gets a favorable Kirkus review saying "The parts of the story describing the action of the game are exciting."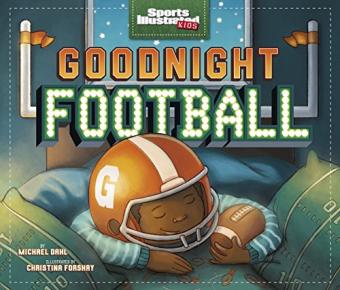 Football Jokes and Riddles
Top children's sports writer Matt Christopher has over 100 book titles to his name. In Football Jokes and Riddles, young readers get a funny book about the game and the players. Kids can learn football themed jokes and riddles and read about true silly stories that happened to famous football teams. Originally published in the late 1990s, modern jokesters can grab a 2009 e-book copy for around $5. Larry Johnson's bright, wacky, cartoon drawings bring the laughter to life in this 48-page book for young readers in elementary school.
Beyond the Laces
This inspiring picture book goes beyond the standard story and looks at the impact athletes have on kids. The book is so profound and acclaimed by professional athletes and sportscasters, it has its own website. Authors Bob Salomon and Rick Young bring kids of all ages the story of a little boy with an illness and the football player who put in some extra effort off the field to make him feel special. Grab a copy for around $13 knowing that a portion of all sales gets donated to the Children's Hospital of Philadelphia. Illustrator adds to the magic of the story with realistic illustrations. Live with Purpose Coaching gives the book an "A" because it "delivers a memorable and stirring tale of kindness and redemption."
Kickoff
Twin NFL Players Tiki and Ronde Barber bring kids in third to fifth grade a new series called the Barber Game Time books. The first book, Kickoff, introduces readers to the fictional junior high versions of Tiki and Ronde and costs under $10. These football-loving brothers are headed to the seventh grade and hoping to make the team, but will they get to play with the older kids? Scholastic lists this 2008 publication as a "fast-paced" option for kids who love football. As a 2010 Pennsylvania Young Reader's Choice nominee, the story focuses a lot on the personal attributes needed to succeed on a team.
Nonfiction Titles
Kids who are more interested in learning football rules, stats, and insider information these nonfiction titles offer loads of details.
What Is the Super Bowl?
From The New York Times best-selling series, What Was?, comes What is the Super Bowl? by Dina Anastasio. With roughly 100 pages, this easy chapter book gives readers a history of the big game along with tons of other facts and pencil drawings on each page. The book sells for around $5 and is featured in the top children's books about football on Amazon and listed as a best-seller on Penguin Random House. Kid reviewer Ian says, "This book made me say, 'Wow!' many times" and, "I thought the illustrations were very good."
Big Book of Who: Football
Separated into five sections called Champions, Personalities, Record Breakers, Super Scorers, and Yardage Kings, this 100-page full-color book by the editors of Sports Illustrated Kids is packed full of football facts about all the best players. Barnes and Noble list this encyclopedia as a top 10 sports book for kids. Revised in 2015 to include updated statistics, the Big Book of Who: Football (Revised and Updated) features close-up images of star players on the field and during game action. For kids ages five and up who can't get to a live game, this $12 book helps them feel like they're in the middle of the action. Goodreads gives the book four out of five stars with one reviewer saying, "If you are a sports fan then this is the book for not only your children but for adults as well."
Football: Then to WOW!
Part of the Then to WOW! Series by Sports Illustrated Kids, this 2014 publication show fans exactly how all aspects of American football have changed over decades. Football: Then to WOW! costs just under $20 and features vivid pictures and fun trivia from the start of football to the present day game. It's one of the few nonfiction football books to cover the history of the game in such an understandable way. While the book is recommended for ages eight and up, fans of all ages can enjoy the history and pictures. Kid reviewer Henry says he likes the pictures of the helmets and the timelines showing changes over the years, concluding, "I liked this book because it was entertaining in many ways. "
Undefeated
Published in 2017 Undefeated: Jim Thorpe and the Carlisle Indian School Football Team is a 300-page novel aimed at readers ages 10-14. For kids who want the real nitty-gritty football stories of triumph on and off the field, this book's got it all. Award-winning children's historical nonfiction author Steve Sheinkin introduces readers to Jim Thorpe and Pop Warner. Jim Thorpe was a Native American football player and Olympic athlete, while Pop Warner was an expert coach and football aficionado. As the story unfolds readers learn how these men met, overcame persecution, defied odds to create a winning football team, and changed the game of football. Listed as a New York Times Notable Children's Book of 2017 and a Kirkus Reviews Best Nonfiction Book of 2017, this $20 story shows exactly how football is more than a sport for many athletes and coaches.
Going Beyond the Season
Young football fans love the excitement, hard work, fast-paced, and team atmosphere surrounding games at all skill levels. These books help athletes have a better understanding and appreciation of the game and give fans all the insider information they crave.